Through competition, we discover ourselves.
Huo Yuanjia
This weekend was a cyclocross double header, with two races on warm, sunny, October days: GPTB Heiser Farms and the traditional Cross Crusade opener at Alpenrose Dairy. Since I'll be away next weekend, I decided that I would do the double.
I'm flying fit right now, so I am trying to take advantage of my good form and do as much racing as I can. I'm also having loads of fun and really enjoying myself. Plus, as a cycling coach, it's good to stay in the game and learn as much about myself as possible.
It would appear these days that my LTHR is a bit higher than I thought, or maybe it's not. Let's have a look at this weekend's races:
Heiser Farm CX
This race was fast and relatively smooth, in terms of one's efforts, with only one dismount over a set of three barriers. With the first Crusade race of the season looming the following day, attendance was a bit lower than normal with about 30 riders taking the start. The competition, however, was still strong with all of the series contenders in attendance.
Let's have a look at my HR file: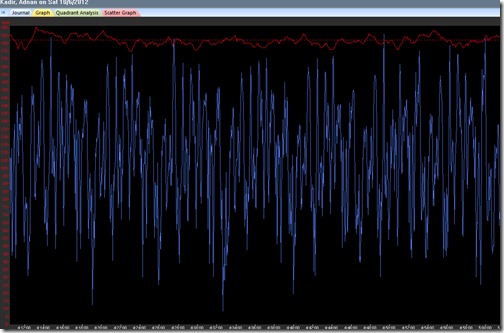 Heiser Farm CX: Red is Heart Rate data, blue is speed data. The dashed red line is at 181bpm. Click the image to magnify.
At the start, I accidentally hit the wrong button on my computer, so I'm missing data from the first lap. However, the separation really began on lap 2, and that is where we begin our analysis. My average HR for the race was 181bpm. From the graph, you can see that, after the first 3 laps, things settled down a bit. At this point, I was in the main break of 4 riders. With 2 laps to go, my HR goes up again as one rider punctured and the rest of us fought it out until the finish. I came 3rd in that battle, but I gave it all I had, so I feel good about my race.
Lately I have been racing at a HR a few bpm above my normal LTHR. This could be for a few reasons:
I underestimated my LTHR (not likely)
I'm relatively fresh coming into the races these days as CX in-season is largely race-and-recovery
I've had some anxiety as of late and that raises one's HR
It's been warm and even a bit hot at some races.
It's not uncommon to have a "fresh" LTHR and a "fatigued" LTHR that is a few bpm lower. With the combination of the above factors, and keeping this in mind, it is not a stretch to say that my effective LTHR these days is more like 181bpm than 178bpm. The next day proved this again.
Cross Crusade Alpenrose Dairy
This race, in contrast to the day before, required a lot more short, hard bursts of effort. The course was hard and bumpy with several short ride-up sections, a set of barriers, and two run-ups. Here is the HR file: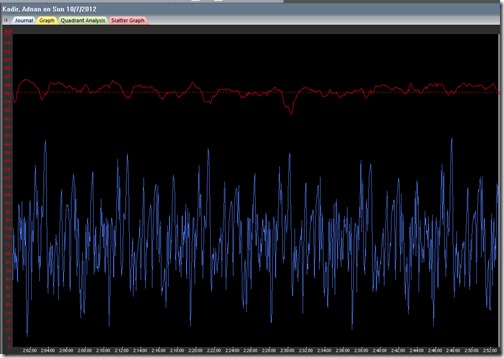 Alpenrose CX: Red is Heart Rate data, blue is speed data. The dashed red line is at 181bpm. Click the image to magnify.
This time I hit the correct button at the start, so my data is complete. The start saw the highest HR as all 93 riders in my field careened down a short paved section and into a loose dirt and gravel s-turn. A short descent was followed by a steep ride-up that had everyone fighting for traction. After lap 2, when things began to separate, I got down to the business of making up as much time as possible. I missed the races at which I could have had the possibility of scoring call-up points, because I was busy racing MTB Marathon Nationals. Thus, I started in the last row. Other than a bit of pacing difficulty mid-race (which is easily seen in the data), and legs which were a bit tired from the day before, I was able to put out a steady effort. This netted me 17th on the day, just inside the points!
Despite having raced the day before and ridden to this particular race, I was able to maintain an average HR of 182bpm. The heat and a bit of under-hydration played a role in that, I am sure. That, and the crowd support was fantastic.
Here are some photos from the weekend: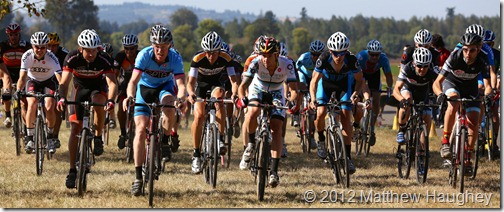 The start at Heiser Farm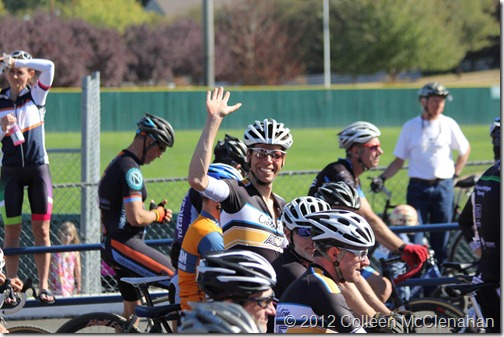 This is what I look like just before I have a great time
In the mix on the first lap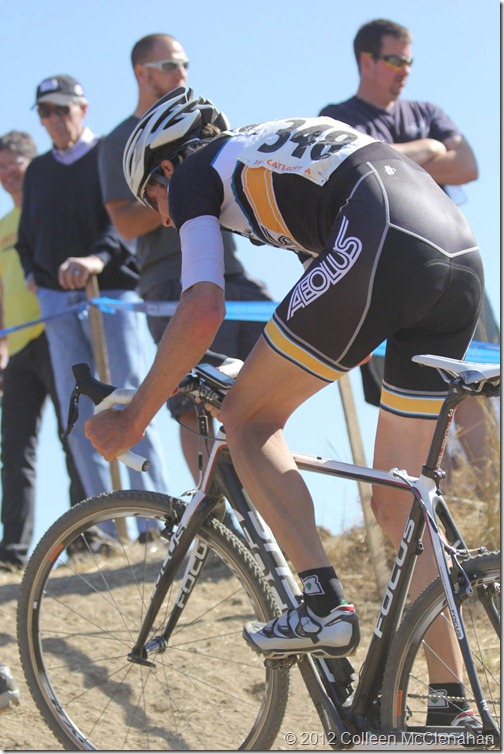 Going up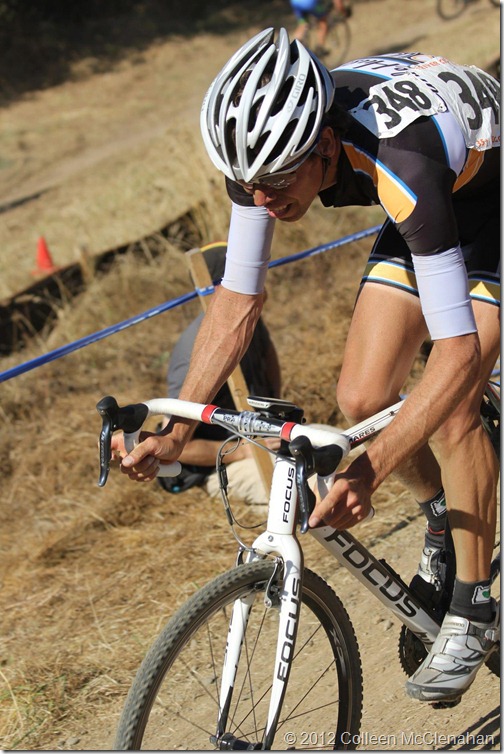 Going down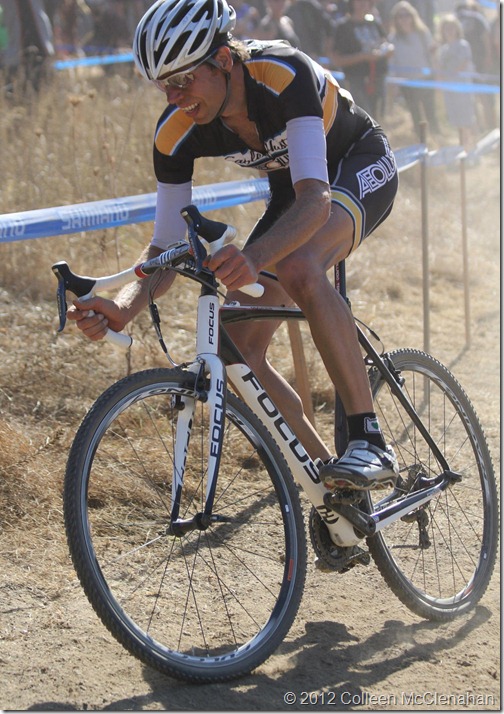 Going across