I came to Bend not expecting too much from myself. I haven't been myself lately, and my anxiety level has been really high. It's tough to concentrate like that, and for a 4+ hour race, it's a tall order to do so. In addition to all that, I hadn't touched my mountain bike in months.
None of that seemed to matter today. I put it all behind me. I felt great, rode well, and did my best ever National Championship result: 6th place.
It feels amazing. I just wanted to finish and I dared not dream of a top-10 placement.
The rest of the crew had pretty good days as well. Mark and Jeff just squeezed into the top-20 of their respective classes, and Chris (Specialized/Adventures 212) was running in a solid 15th until a cut tire dropped him to 20th.
My race seemed to last forever. The start was harder than I would have preferred (just about every one is), but I settled in on the first climb and started to feel better. The descent to Flagline was awesome, and that is when I began to move up in my class. I knew a lot of people had started at a level they would not be able to sustain, so I simply rode at my own pace and made sure to eat and drink regularly (a special thanks goes out to Chris Graham for doing hand-ups for us). One by one, the riders began to come back. I wasn't sure, but I thought I was in the top 10.
By the time I reached Tiddlywinks, just about everything hurt, including my stomach after the USAC neutral feed handed me a bottle of Gatorade (ick). I managed the descent without incident, and barely hung on while I climbed Funner to the finish. Desperate to know where I stood, I asked a checkpoint official where I was. He simply replied, "Oregon."
When I finished, I had to lay down for a while, the violence of the effort having taken its toll over more than 4 hours. Once I was told I had come 6th, I went back to the car and had a little cry by myself. I'm still not sure I believe it.
I didn't know if there would be any photographers out there, so I took some snaps myself: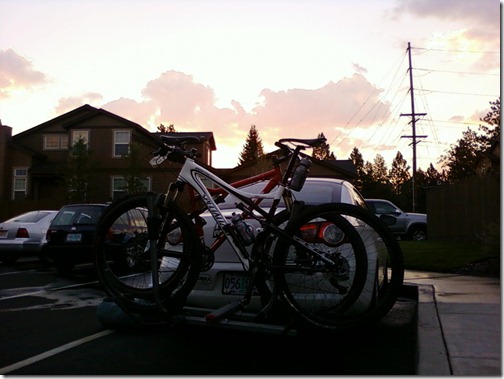 Mark's car ready to roll to Wanoga and the race start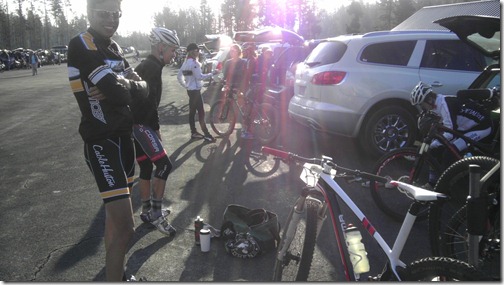 Prepping with my pal Brian Gerow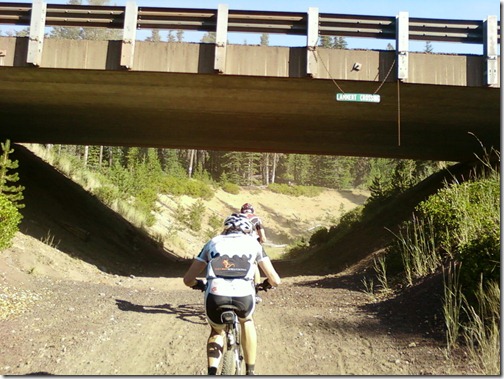 The tail end of the lead group rides under the highway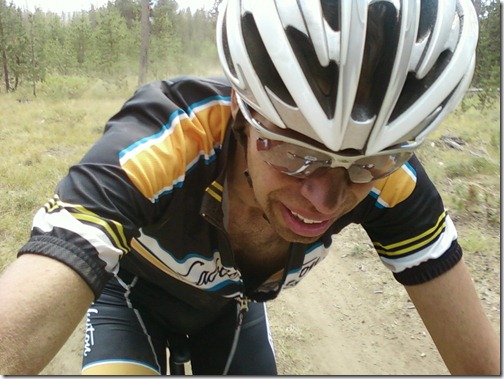 Somewhere in no-man's land. I decided I still had enough energy to snap a photo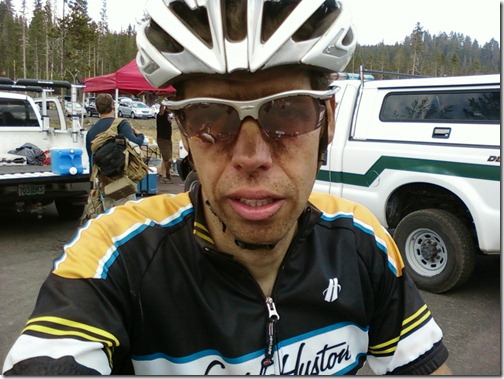 Exhausted. Looking and feeling very old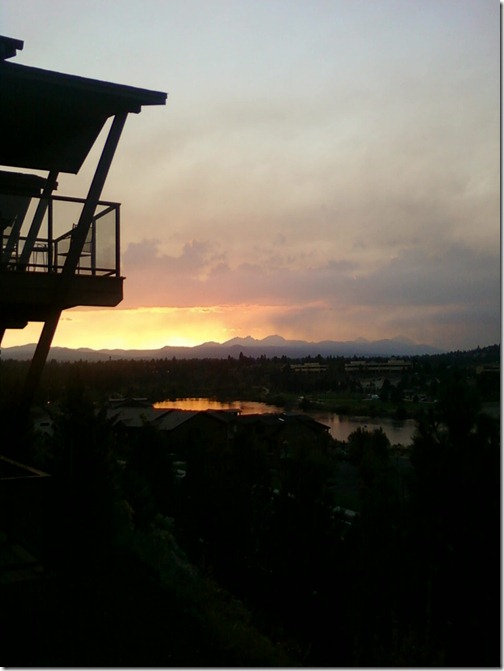 Another amazing Bend sunset with wildfire smoke