It is no exaggeration to say that last week, here in Oregon, summer came to an abrupt end and winter arrived. One day it was in the 70s and sunny and the next it was in the 50s and raining. It's still raining, only now it is even colder.
This sort of thing, of course, makes for great cyclocross. I think it is safe to say that the dust races of 2012 are over and the mud is here to stay.
The weekend started with the Canby Cross-Word CX Challenge. A smaller race, not part of either local series, it was nonetheless well-attended and saw some good competition. It was also the first muddy race of the year, and we all had to adapt to the new conditions after dealing with hardpack and dust thus far.
Canby CX:
I started at the back, but quickly made my way up into the top three. As you can see from the file below, I started a bit too hard and I paid for it later on. The first 1/3 of the race saw my HR average 183bpm, with correspondingly high power output (which I will keep a secret for now!). The rest of the race only saw an average of 179bpm – the cost of an imprudent start. At one point, I had caught the #2 rider, but a slip on corner saw him ride away and I had to settle for 3rd place on the day. Small mistakes often have high costs in 'cross.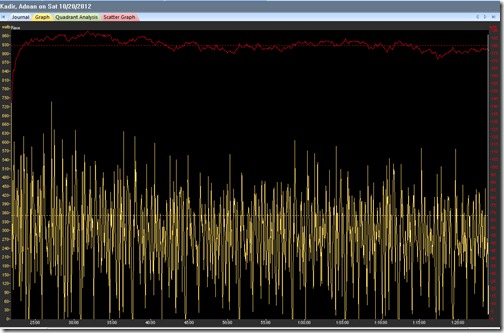 Canby CX: Red is Heart Rate data, yellow is power data. The dashed red line is at 180bpm. The dashed yellow line is at 350W. Click the image to magnify.
Cross Crusade Heron Lakes:
The weekend's second race wasn't what this cycling coach had hoped for. The Heron Lakes course at PIR is one of my favorites – flat, fast, and hectic. I missed last week's race (I was attending the USA Cycling Coaching Summit, my first one as a Level 1 coach) and so I had forfeited my call-up and had to start at the back again. It didn't seem to make much difference as less than six minutes into the race, my rear derailleur decided to join my front derailleur and I was going nowhere. It was a curious failure as it did not seem to involve sticks or mud, or other riders. The body of the derailleur simply sheared off the pivot bolt.
I'm looking at the bright side – I have one 3rd place, and my bike frame and my body are intact. It's easy enough to get a new derailleur.
Here are some photos from the weekend: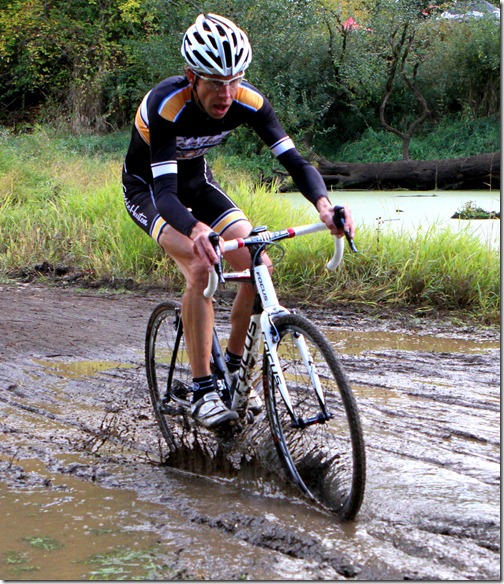 Canby CX. If I look surprised by the mud, it's because I am.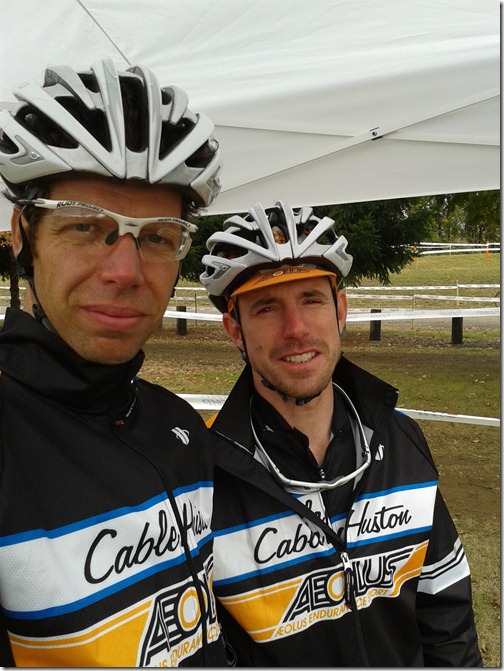 Heron Lakes: My teammate Monty (aka Montador) and I before the start.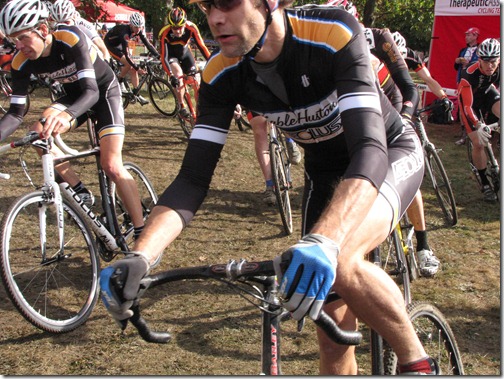 Heron Lakes: Erik V and I round a bend in the first 3 minutes of the race. That was about the half way point for me!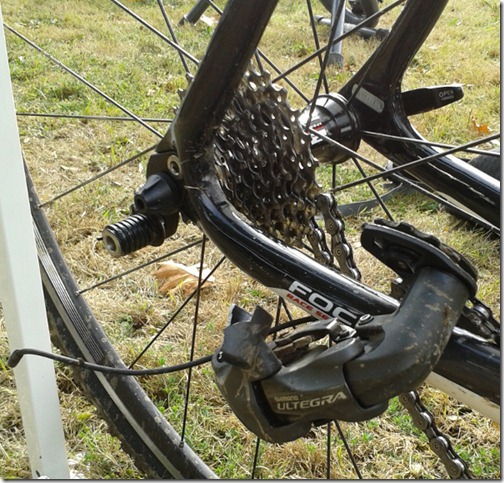 Heron Lakes: My rear derailleur breaks, ending my race. Aw, muffin!