Today was awesome! For the first time in this race it didn't rain at all on the stage, or even afterwards. It was to be a relatively easy stage, over the Passo Valparola and then, following a beautiful fast descent into Cortina d'Ampezzo, a climb over the Passo Tre Croce. The latter had some 14%+ grades, but it didn't seem hard compared to what we have already done this week.
The stage started out with a 5km descent into the town of Zwischenwasser, followed by a long false flat and then the main climb. The descent was supposed to be neutral, but despite the warning from the officials most people ignored the neutral order. I can't say I am impressed with the way many people ride here. Simply put - they're not smart. They ignore the officials, take stupid risks on descents (we saw the results of two accidents today), and don't respect other riders' safety. In addition, they seem to start every stage flat out, only to suffer later, as the minutes tick beyond the 4 hour mark. It's one thing to do that on the first one or two stages and then learn your lesson, but these people don't seem to get it. As such, Christoph and I more or less took it easy today and still gained in the classification. The distance is beginning to tell on those who don't know how to pace themselves.
It's not all irritating Germans, of course. We have met some really nice people and have had some good help in the bunch. For example, today, on the long downhill false flat into Dobbiaco, a couple of guys didn't quite understand the "faster as a group that cooperates" idea. I had a quick chat with them and soon after, with the help of a couple of big Dutch guys (who definitely know how to ride in a group in the wind, by the way), we were soon flying along at 55kph. That is when this sort of race is the most fun, and today was the best yet!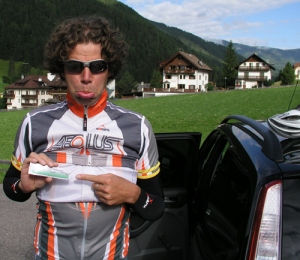 Afraid of what's to come before the stage start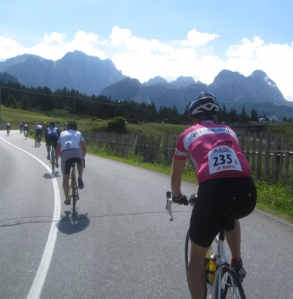 Christoph heads up the Valparola