Today could only be accurately described as EPIC. We began in Soelden in a downpour that only ended 5 hours and 2 Alpine passes later as we raced down into Brixen. The started out with a 16km climb up the Timmelsjoch which took us about 1:36 and up to 2,500m. These are the true high Alps and the rain, altitude, and and cold were unforgiving. On the climb I had noticed that my chain had lost all of its lubrication, so I begged some chain lube from the Team Sparkasse car (thanks, man!). That solved that problem, but worse was soon to come as the descent was treacherous, with several dimly lit tunnels and thick fog with rain pouring through it. It was miserable and, although we had donned rain jackets and gloves (in addition to the caps and long sleeve jerseys we were already wearing), I started to shiver I knew I had better eat some food as soon as I got to the bottom. I waited a few seconds for Christoph and did just that. It didn't make a lot of difference, though, as about 10 minutes from the top of the 1:42 Jauffenpass I began to see stars. Christoph took off down the descent while I had some more food and put my gloves back on. This descent was nearly empty as the bunch had exploded, so I made the most of it and quickly caught and passed several groups of riders, including Christoph! The asphalt here is different from anything I have seen in the US and seems to have a lot of traction even when wet. It's nice.
Christoph had opened it up a bit and was only 20 seconds or so behind as the road flattened out we joined a fast group on the main road to Brixen. Several of us at the front worked well together and before long we were really flying. The organizers did not want to make it easy on us, though, so they through in several more short climbs which took us far into the orchards above the town. The last descent was dry and sunny and I topped out at 87.5kph on the way down. 5 hours and 30 minutes after we started, we were finally done. Tomorrow takes in the Wurtzjoch and the Furkelpass, but the weather is forecast to be a bit better. I will post more when I have it. In the meantime you can see photos from the race at the TransAlp website.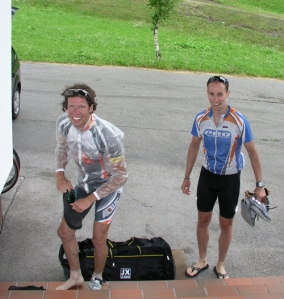 After a long, wet day, still smiling!