Today saw a beautiful beginning to the race as the sun shone brightly and the temperature at the start was already a balmy 28C. The mountains where we were headed were forecast for thunderstorms, so we left with our rain capes tucked in our pockets. That would turn out to be a good move. I was nervous about the start, but being number 235, and as such able to start in the first 250, there was none of the nervousness that the first kilometers were rumoured to have. Sure, there was some dumb riding, but I saw no one fall. Some easy rollers took us to the Plansee, and then we found ourselves dropping sharply into Reutte where the road opened and the separation in the groups became more clear. Christoph and I hung in and as we approached the high mountains, we could see the rain ahead.
The first slopes of the Hahntenjoch were steep and it soon became clear which riders had given too much in the early hours. We kept a steady tempo and only stopped at the feed station to put on our rain jackets and get some extra water. The rain came within minutes and immediately we were drenched at the highest point of the day. Luckily for all of us, it was not too cold and there was no danger of freezing. That didn't keep me from keeping my jacket on all the way up the climb, though. On the descent, there were several accidents, but both us managed to avoid them. I found that, especially in the wet, it is better to go around slower riders than just stay in a group. The slow ones cause you to brake too often and always at the wrong time, actually making going slower more dangerous than just letting it flow.
The rest of the ride was a seemingly endless series of rollers into Soelden, the last in the company of Eric from VeloEuropa, who were kind enough to help me sort out a bike for this race. Having worked with Eric for several years but never met him, it was fun to finally run into each other on the first day of the TransAlp. After 5 hours and 10 minutes, we were happy to be finished and we did well to end 238th overall.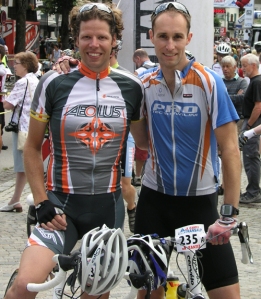 Before the start. We have no idea what we have got ourselves into.