Another beautiful day took us over the Passo Cibianna followed by a sunny, hot, and shadeless ascent of the Passo Staulanza. Today's route was stunning, although at 5.5 hours no easy spin. Christoph was initially feeling the effects of the last days, but came around to finish strong. I felt great all day and was never in trouble. It was hot, though, and I was really happy to see Stacey's smiling face at the finish. Apparently, convicted dope cheat Matthias Kessler only finished 15 minutes before us. I'm not sure how hard he is riding here, though, as he looks like he is just having fun.
One of the great things about racing in this part of Italy is all the support we get from the villages we pass through. Sometimes it looks like the whole village is out to cheer us on, with clapping and shouts of "bravi! bravi!" as we race through town. The support we got in South Tyrol was fantastic, but the Italians here take it to a new level. Everyone who rides should have the experience of racing in Italy once in their career. It's awesome.
Another thing worth mentioning is the diversity in nations represented here. Today I met an Austrian and a Greek, and there are Canadians, a couple of Americans, and it looks like some Kiwis in addition to the usual complement of Europeans. The Germans are by far the biggest group, and it's no surprise since the enterprise and organization are German.
Tomorrow is the last mountain stage, as the 150km to Bibione on Saturday is mostly flat. We are feeling good and, at last glance, came up a bit in the rankings today, even though we had planned to just take it steady.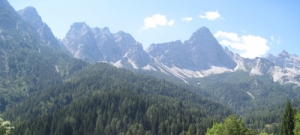 The view from the Passo Staulanza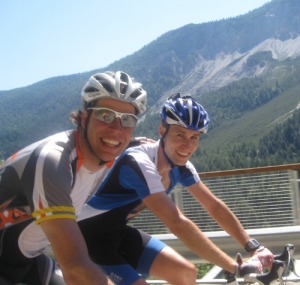 Climbing the Passo Staulanza